Import your data in various formats, including SQL dumps, JSON, XML, CSV, OpenOffice, LibreOffice, Excel, Google Sheets and OneDrive spreadsheets.
You can also import your data to our cloud from an existing SQL database server. Alternatively, you can link your
database servers and other data sources
to DB-Views. DB-Views will always use a live copy of the data.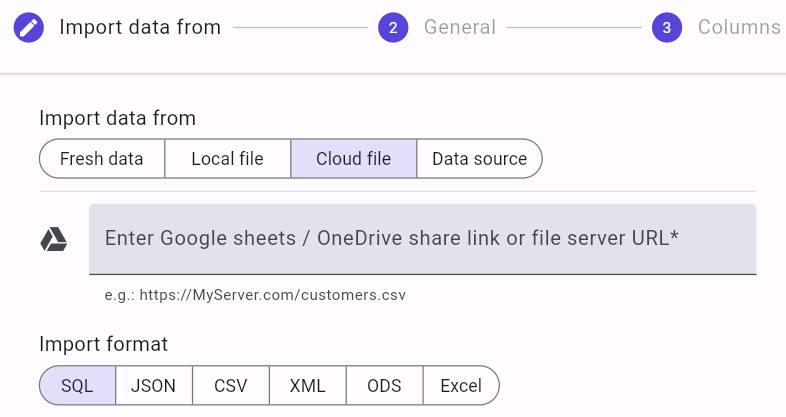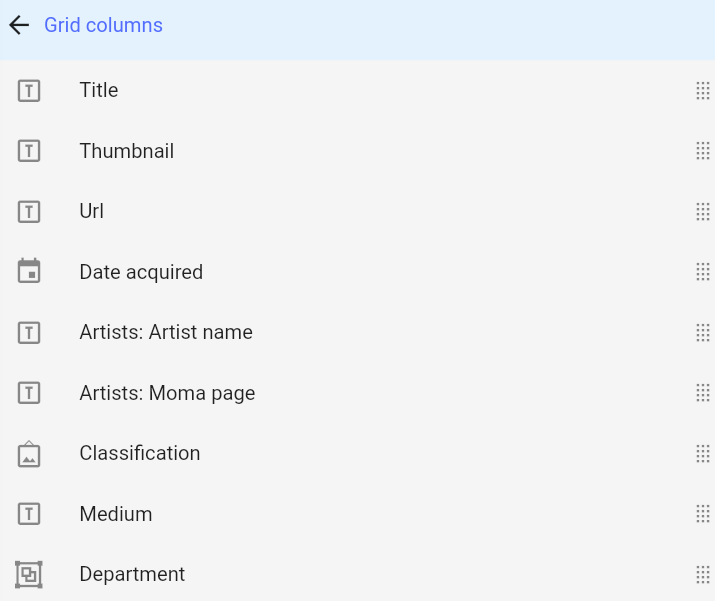 Combine related columns into a single view
Create views based on related columns from multiple sources (a.k.a. "remote joins"). Define column-based tree views to easily navigate the data. Filter data by any column combination.
For example, the Artworks demo displays all the artwork information from the main Artworks table in a single view, along with the artist name and MoMA page from the Artists table.
Use powerful field-sensitive filters
Sort and filter your tables by any column combination. Per-column filters are created using the field type and data range.  Save common filters for daily use.
Filters can be combined by using the AND, OR, and NOT operators. This can be done repeatedly for as many levels as you wish.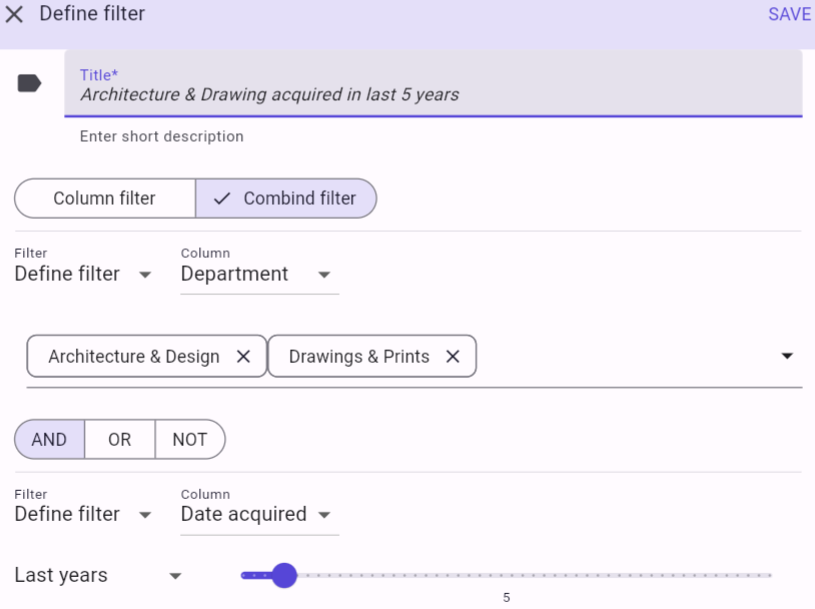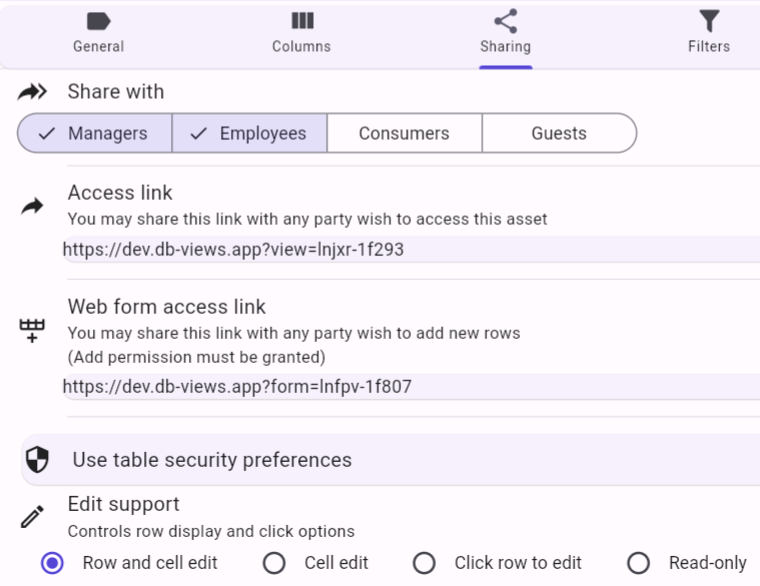 Share views with colleagues, employees and customers
Views and webforms are created using well-known Material 3 Design guidelines.
Control who sees the data and set other permissions as needed.
Publish views online to gain leads and customers
The Use as consumer invite link option allows potential customers to create a consumer account in your domain. Built-in support of Google and Facebook account sign-ins ensures high conversion rates. From there, you may contact the prospect in hopes of turning them into a paying customer.
You can also control whether the viewer must sign in or whether they can see the data anonymously.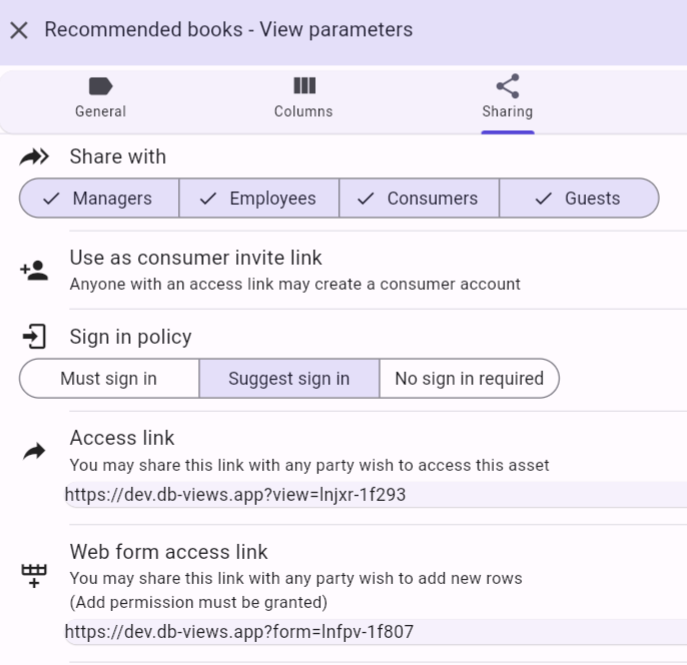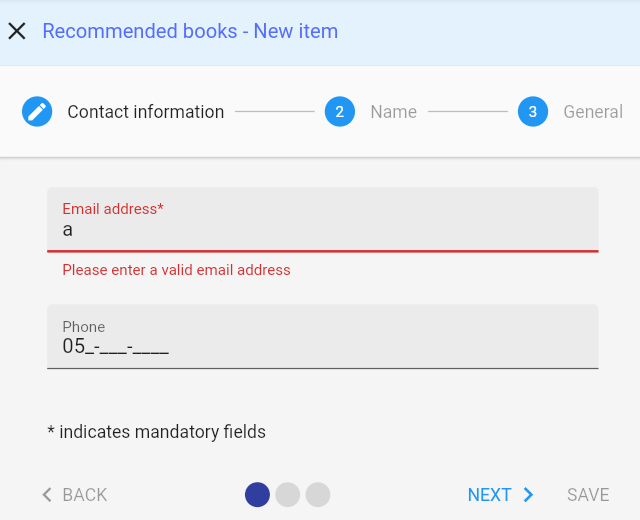 Publish multistep webforms to collect customer data
Define multistep webforms to group related fields on a single screen.
Utilize DB-Views' extensive built-in field logical validity. Advanced validity testing can be added by using JavaScript snippets and REST calls.
Turn related views and webforms into apps
Combine related views and webforms into one comprehensive app.
Fully customize your apps. Enjoy complete language localization.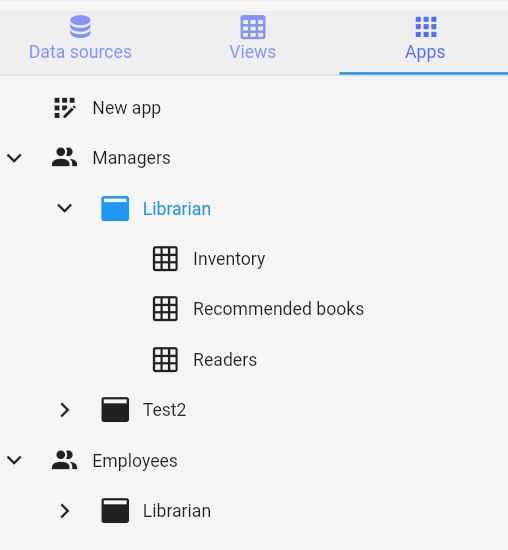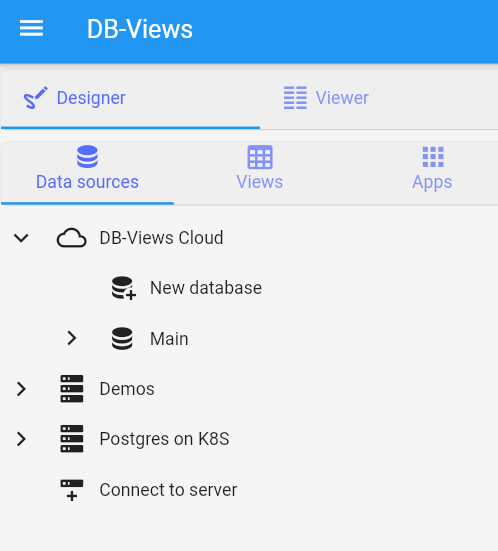 Be productive from day one
DB-Views' intuitive yet powerful design lets you be productive from the very beginning. Get started today with well-known Material 3 Design concepts, including tab views, tree views, and grid views. 
Enjoy fast drag & drop development. With our Low-code solution, JavaScript coding skills are only required for advanced scenarios.
Using the FREE starter license, you can experience all the features of DB-Views. From there, you can permanently use your apps and views for demos and mid-scale production.